EVENT: Turning Fellowship Into Partnership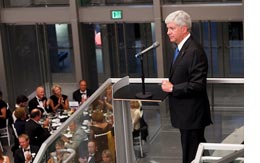 With Michigan enjoying resurgence as a global leader in business and product innovation, the timing couldn't be better to form new partnerships. West Michigan is at the forefront of that resurgence, and the area's culture of community and corporate best practices is resonating and attracting interest on a global scale.
These grand Gala events celebrate and foster that culture, highlighted by some of the brightest business minds on two continents. With elite sponsors and speakers, the West Michigan Global Initiative provides guests a platform for ideas, and a forum to transform fellowship into partnership.
---
---